Your festival holiday starts at IntentsCity! The festival campsite is full of fun activities and entertainment, selected especially for you. You won't get bored at the campsite. But, so many activities may give you some stress. Read on and we will tell you which activities you should not miss.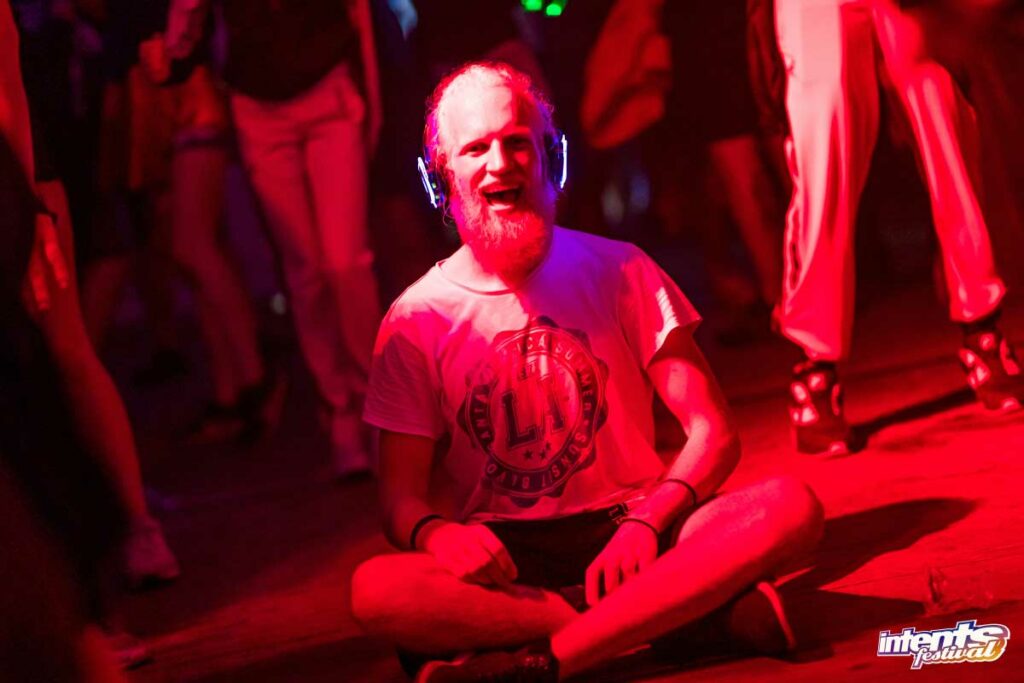 INTENTS:AFTR
Are you the ultimate warrior who is far from finished at the end of a day Intents Festival? The party isn't over yet! Go to the MEGA Silent Disco Afterparty. One of the largest silent disco in Europe with more than 5,000 headphones! The INTENTS:AFTR is hosted by a different artist every night. Put on your scuffed shoes and dance until dawn. Book your INTENTS:AFTR headphone here!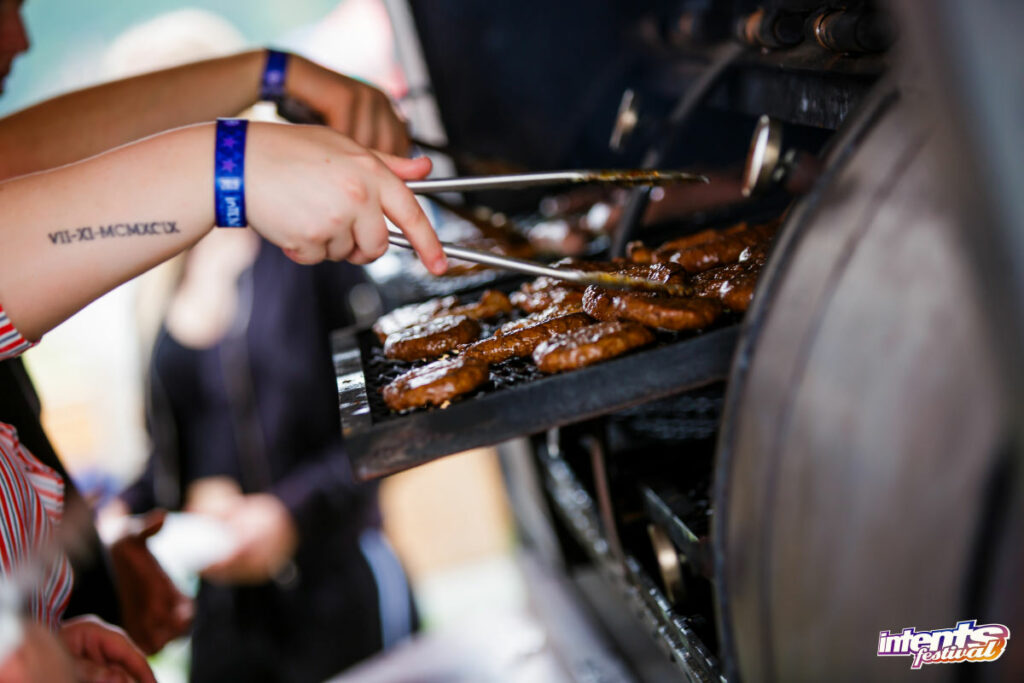 BBQ Masters on tour
Are you a real meat lover? Or would you rather have a vegetarian burger? Then you should definitely try this: the gigantic BBQ! When the weather is nice, you want nothing more than a nice piece of tender meat straight from this hot BBQ. Let yourself be pampered by the men of MegaBBQ. They prepare the most delicious (veggie) meat pieces for you. NICE! Like an angel pissing on your tongue.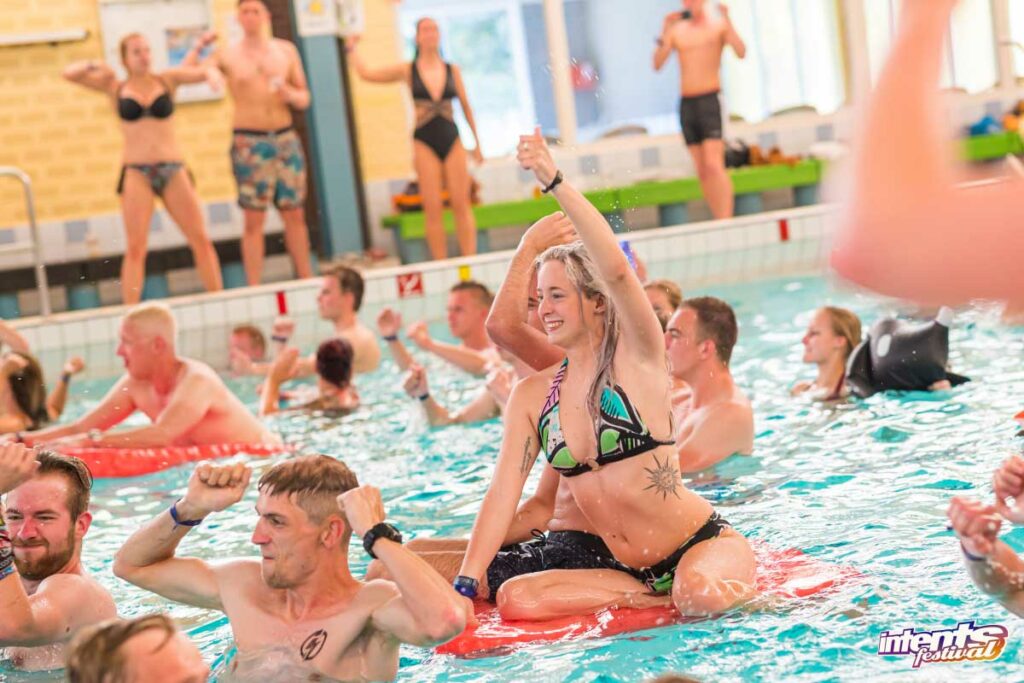 Pool party on Saturday & Sunday
Extra fun experience: the pool party on Sunday! Take a refreshing dip in the swimming pool next to the festival site on a Saturday or Sunday morning. Want to have a quite swim? Not over here! Time to party during the pool party with various artists.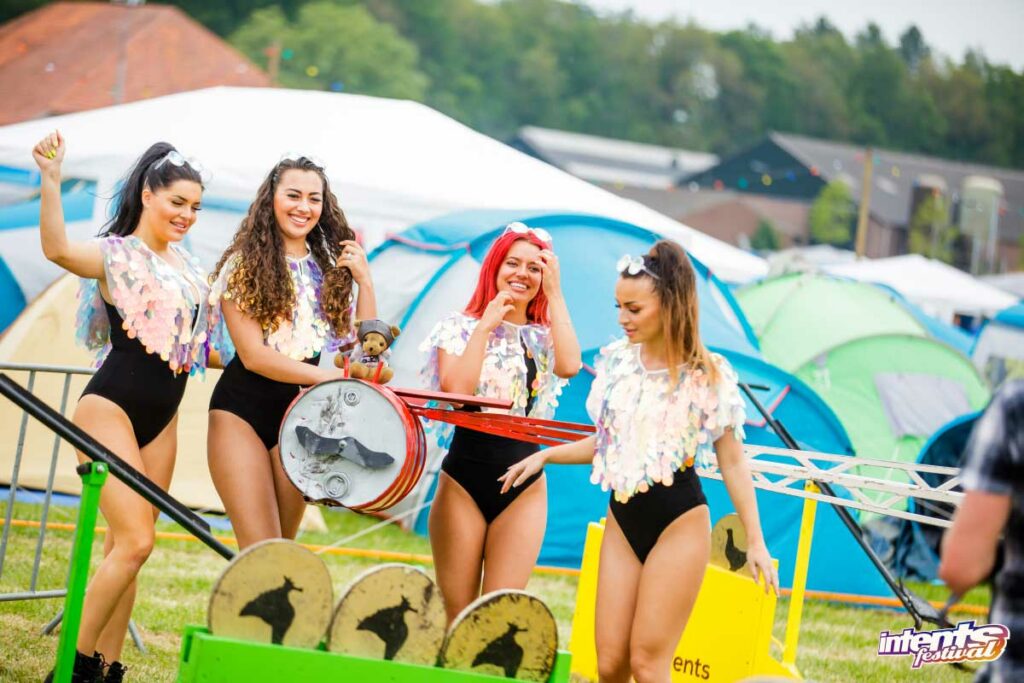 Life Size Stef Stunt Pilot
Your favorite drinking game has been brought to IntentsCity! Are you an expert at flying? Do you always tap off all the coins? Then this one is for you. LIFE SIZE Steffen! Bring your best mates and take on the challenge.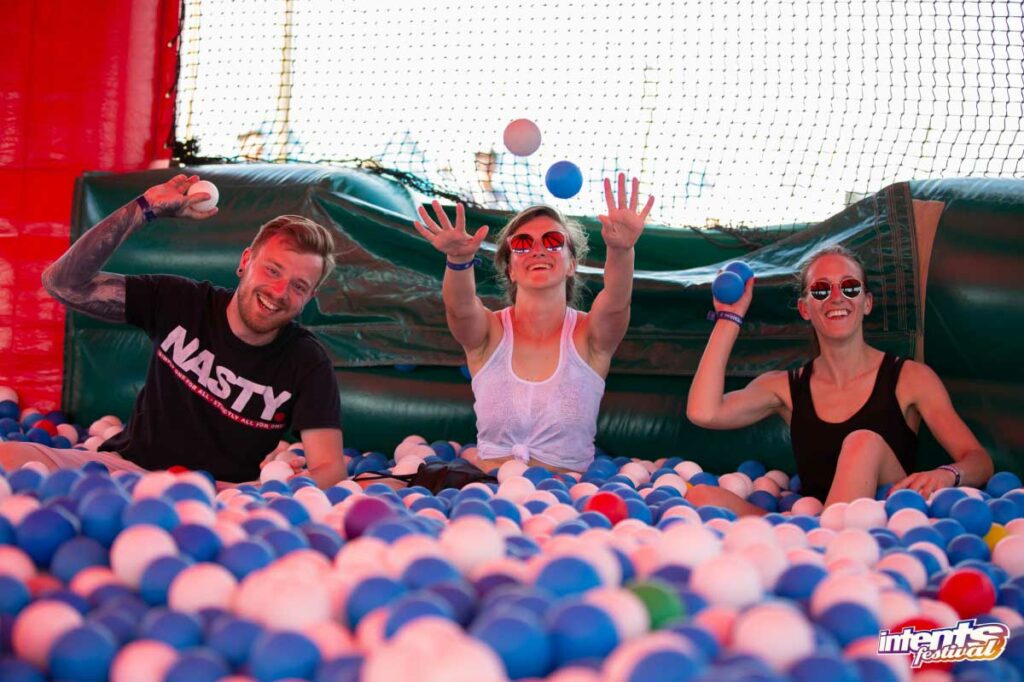 Magical Ball Pit
Reminiscing about old memories in the Magical Ball Pit! Jumping, swimming and fooling around. Wieehooo. You will feel like a kid again!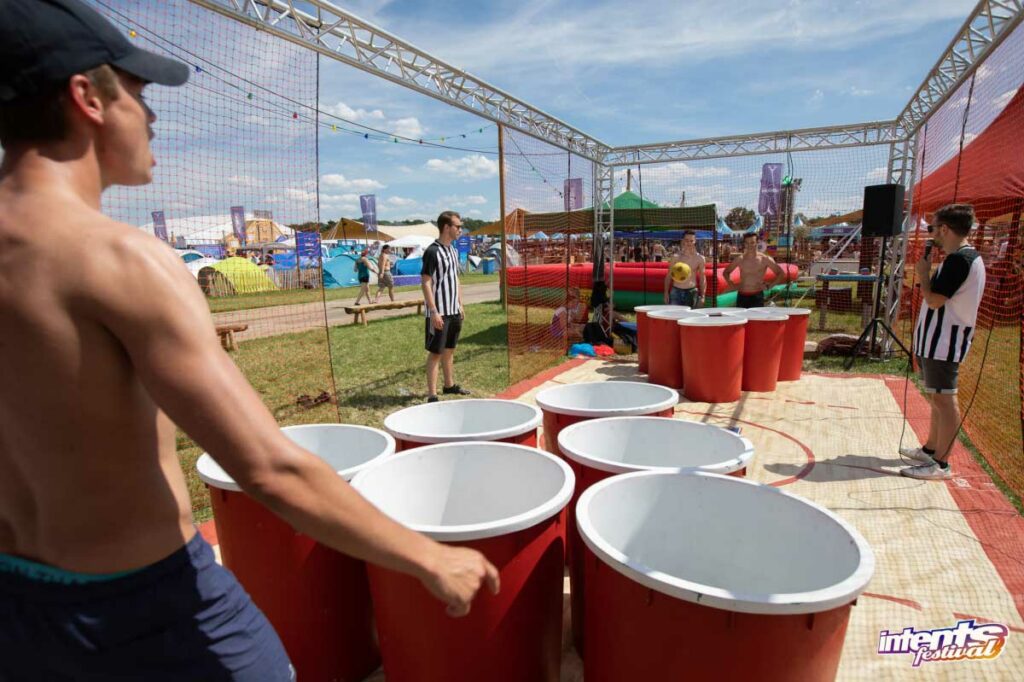 Beer Pong
Throwing, chatting, spitting, hitting, bouncing… try to get the ball into the opponent's cups. You know how it works. Will you choose the normal Beer Pong or will you go for the MEGA Beer Pong? Challenge your friends!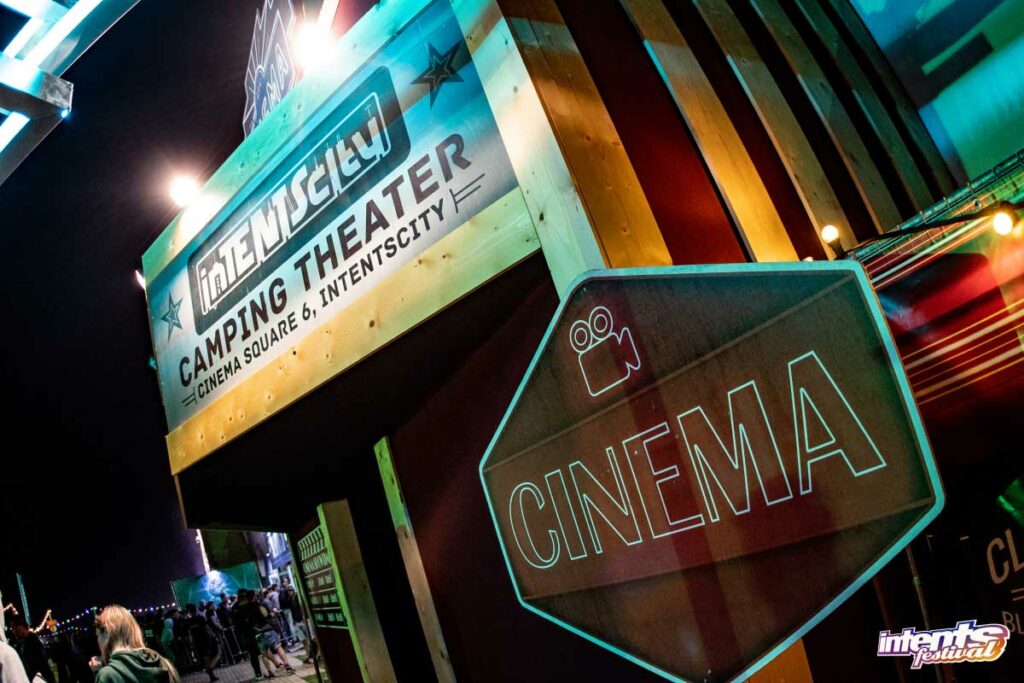 24/7 Chilling in the Cinema
Are you not tired after a long day at the festival? Or do you want to find some quality time in the afternoon? Go to the cinema, stretch out on the lounge sofas and enjoy your favorite movie with a nice beer. Cheers!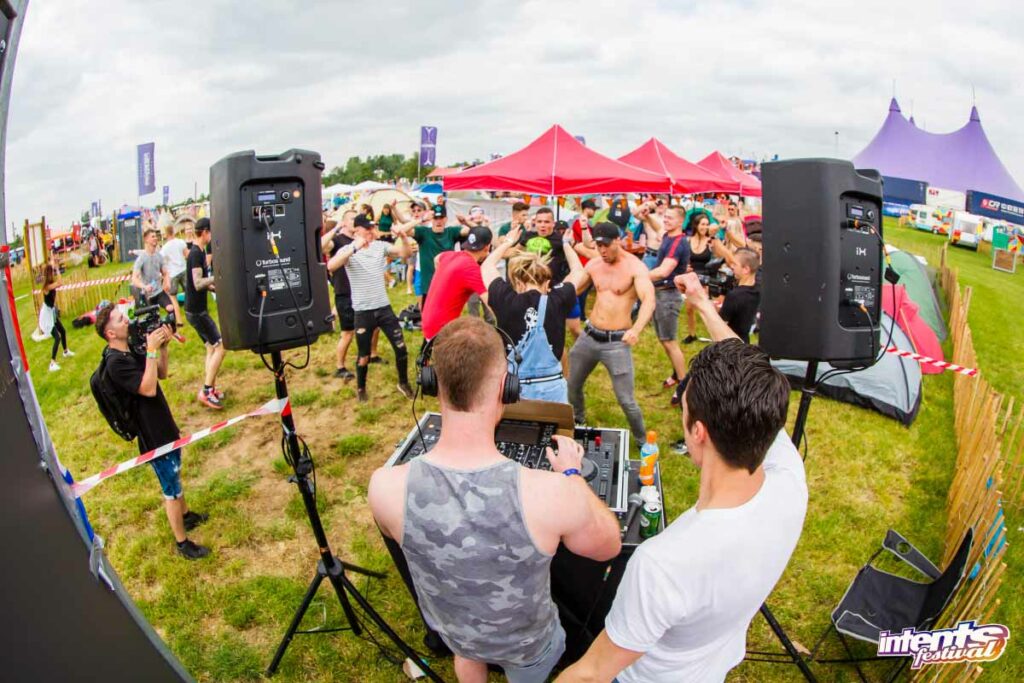 Pop-up parties
Win your own pop-up party with your squat! There's always your niece's boyfriend, your mother's aunt, her son who can mixup some good songs. And what a coincidence, he's also with you on the friends campsite. Nice! Organize your own pop-up party and you can use the turntable and speakers for two hours. Dance of the grass next to your tent.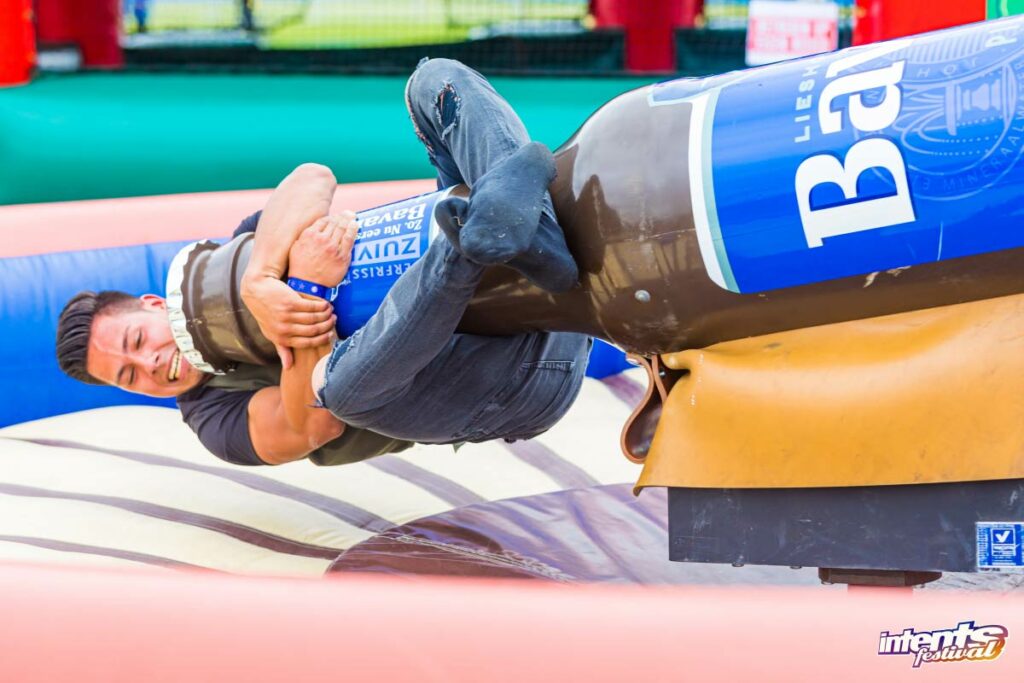 Beer Rodeo
Do you never drink the last sip of your beer? Then you have to go to the beer bottle rodeo for punishment! Win the battle with this big ass beer. Sit on that beer bottle and try to hold yourself for as long as possible. Who does not know this activity.
Besides these mega fun activities, there is much more to do. Take a look at the IntentsCity activities page for even more activities to fill your festival holiday!